Become a Pro Baker with Just One Tool.
Disclaimer: All reviews contain subjective opinions of the NANZA team.
[Funding Status]
Pledges: $54,876 (as of Jun 12, 2023)
Live until: Jun 30, 2023
@ 8:59 PM (PDT)
​
[Reward Price]
Launch Special: $79 (20% off retail)
* Shipping fee not included.
​
[Estimated Shipping Time]
Oct 2023
Some of us aren't so good with crafting or any hands-on work for that matter. Vision and execution are both needed to create successful and professional pieces, even in the culinary world. That's where ChefDoodler can help, making it more than easy to add intricate details and creations to elevate your baking. Add whatever you can imagine on cakes, cookies, cupcakes, and more. There truly is no limit to what you can do with the pen, just bring your ideas to life!
​
Usage/Techniques
Decorate in Sugar - Use the pen with sugar to write personalized messages or add a pop of color to your baking.
Adhesive - "Glue" baked goods together, whether that be smaller cake details or even big parts of a gingerbread house.
Create - Design custom shapes and edible art with the pen, adding that extra look to your cupcakes, cakes, cookies, and more!
Stencils - Use stencils to easily draw with the pen, getting the exact look you want.
​
​
​
​
​
​
Pen Specifications
1. Refill window (place to refill sugar capsules)
2. Extrude (forward) & reverse buttons
3. Removeable refill cartridge
4. Removeable nozzle (for cleaning and storing)
​
What's Included
Each ChefDoodler Essentials Pen Set includes one ChefDoodler Sugar Pen, one mixed-color Capsule Bag (200g each), two Capsule Cartridges, two Nozzles, a power supply and a set of International adapters, one ChefDoodler Silicone Mat, one Cleaning Brush and one Quickstart Guide.
​
Cleaning
Simply soak the nozzles in hot water to clear out any hardened sugar, and run the capsule cartridge under warm running water. All removable parts are even dishwasher safe!
​
Development
The ChefDoodler team made it a mission to simplifying the complex, and making creativity accessible to all, they've been hard at work crafting a pen that at-home bakers, parents, and foodies can have some fun with in the kitchen, no matter their level of expertise.
​
Sugar Color Options
Crystal, Carrot, Rose, Forest, Grape​
​
​
​
​
​
​
​
​
​
​
Sustainability and Health
All of the sugars use natural coloring, and no additional flavorings, ensuring they don't overpower your creative brilliance. The ChefDoodler team also chose to work with isomalt, which is suitable for those with diabetes or other dietary restrictions.
​
​
​
​
​
​
​
​
​
​
​
​
Reward Price
Although their Early Bird sale is over, you can still get the ChefDoodler at a discounted price of $79, which is 20% off MSRP!​
​
Shipping
Shipping ranges from $10-$30, depending where you are and how many ChefDoodle pens you purchase.
1. Simplicity
The pen only has two buttons that make creating easy. Honestly, we're left a little speechless​ at how it works its magic. It's perfect for beginners, and those that have experience with 3D printing pens. Just press the forward or backward button to smoothly navigate around your creation, and the precise nozzle tip helps you get every little nook and cranny!
2. Easy Cleanup
When it comes to our kitchen tools, we want to be sure that they'll always be squeaky clean! With the ChefDoodler, the last thing we want is old, hardened sugar inside and around the pen that's impossible to remove. The ChefDoodler design eliminates this worry, as it can be taken apart and thoroughly washed.
1. Colors Offered
Although we love the fun colors currently offered, we'd also like to see more basic and accessible colors like black, white, blue, etc. These colors are more widely used and could definitely be included in the pack!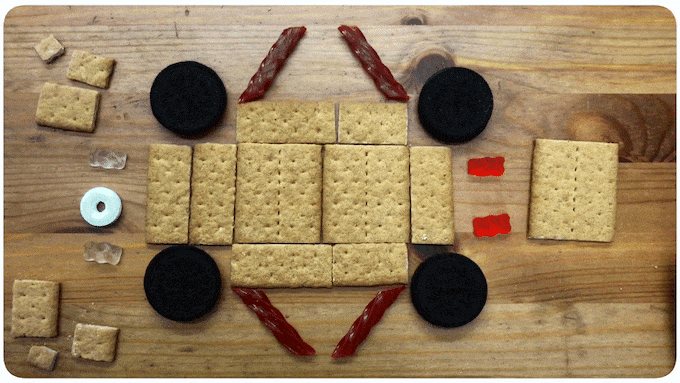 We're all for making difficult tasks easier. Why should we resort to doing things the hard way when there are tools out there that cut out all the hassle and time? ChefDoodle allows you to expand your creativity and up your baking skills. We think it's so worth it. No more collapsing Gingerbread houses, melting decorations, or hours and hours of baking sessions. Get even more hands-on with your edible projects just through the simplicity of one pen.